Custom Silicone Wristbands
Buy 100+ bands & get an extra 100 FREE!
EASILY Design Your Own Silicone Wristband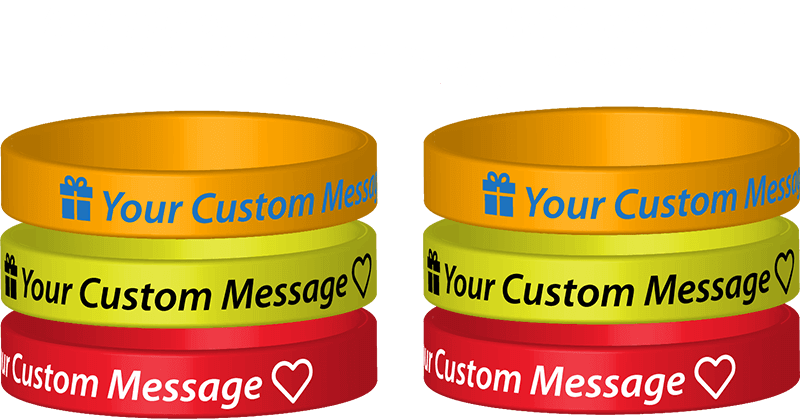 Silicone Wristband Styles
Silicone Wristbands Showcase
Order Rubber Wristbands Stress-Free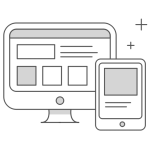 Simple Wristband Designer
Design your custom rubber bracelets in 6 easy steps. Choose from hundreds of colors & dozens of clipart. If you need more customization options, you can contact us for a free mock-up.

Fast & Free Shipping
Most rubber wristband orders are delivered within 7 total days. No need to pay extra for rush shipping others will charge. Have a deadline? Reach out to us and we will do our best to meet it.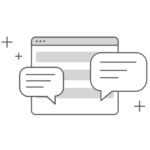 Awesome Customer Service
We are available 7 days a week through chat, email, phone calls, & texting to help answer any questions you have. Reach out and say hi!

Guaranteed Satisfaction
We stand by our quality & service. We are human so very rarely mistakes will happen. If your custom rubber bracelets didn't come out as expected, we will refund or remake it.
Silicone Wristbands & Rubber Bracelets
Silicone wristbands are a great way to spread the word about a cause or organization you support, a business or brand you'd like to advertise, to raise awareness, or to fundraise. We pride ourselves in providing exceptional customer service and helping those in need. This is why we treat our customers with the highest respect; especially since many of our customers are non-profits and schools who aim to make a difference
Sometimes called rubber bracelets, we use 100% high quality silicone that is latex free. Our silicone bracelets are also very durable and will last many years.
We have many different options to create your own personalized silicone wristbands. With multiple text options, many different colors, and a large selection of icons, you can be sure your order will be unique and memorable. You can learn more about the various different text options below.
Printed or imprinted wristbands are the style that has the fastest turnaround time, lowest price and the ability to accurately display detailed logos. Printed wristbands have water resistant ink placed directly on top of the custom silicone wristbands. This type of band is ideal if you want to ensure the lowest price, fastest delivery and/or if you're looking for a style which can show detailed logos.
Debossed wristbands have the text and icons engraved onto the band. Since the design on debossed these will be engraved into the bands, the text will never fade throughout the lifetime of the band.
Color Filled or Ink Injected wristbands are our most popular style and take the debossed bands to another level. Ink injected silicone bracelets have an engraved message which is then filled with a color to give the rubber bracelet a premium and elegant pop that is perfect for fundraising & advertising
Embossed wristbands are where the text is raised on the wristband like braille instead of engraved giving the bands a unique look. If you're looking for braille wristbands, then this style is perfect!
Embossed printed wristbands take the embossed bands to another level. The raised text is finished off withhigh quality ink imprinted on top the the message. Although a bit on the pricey side, our embossed imprinted rubber wristbands have proven to be a fan favorite.
Dual layer or color coated wristbands have dual personalities. The outer side is a different color than the interior of the silicone wristband.
Using our online wristband designer tool, you can easily create and view your own design directly on our website. For custom wristbands that need custom logos or custom formatting, you can contact us or start a chat and our team will create a mock-up free of charge for you to approve prior to placing an order