Buy 100+ bands & get an extra 100 FREE!
EASILY Design Your Own Wristband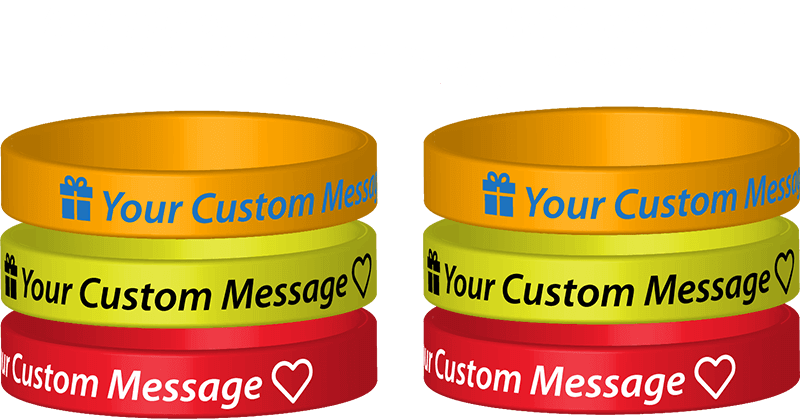 Custom Wristbands Showcase
Order Wristbands Stress-Free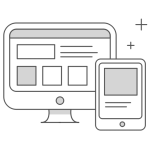 Simple Wristband Designer
Design your custom wristband in 6 easy steps. Choose from hundreds of colors & dozens of clipart. If you need more customization options, you can contact us for a free mock-up.

Fast & Free Shipping
Most wristband orders are delivered within 7 total days. No need to pay extra for rush shipping others will charge. Have a deadline? Reach out to us and we will do our best to meet it.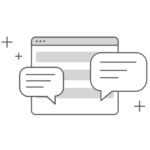 Awesome Customer Service
We are available 7 days a week through chat, email, phone calls, & texting to help answer any questions you have. Reach out and say hi!

Guaranteed Satisfaction
We stand by our quality & service. We are human so very rarely mistakes will happen. If your custom wristbands didn't come out as expected, we will refund or remake it.
Custom Wristbands With No Minimum
Sleek Wristbands is a leading manufacturer of custom wristbands. Our custom silicone wristbands are distributed worldwide for many non-profits, organizations, businesses, and Fortune 500 companies to use. With a large variety of different styles to choose from, your can be sure your wristband will be personalized however you'd like.

Our goal is to help customers express what they stand for by giving them a method to communicate that stance. Whether it be to create awareness or raise funds, we love to contribute however we can to remarkable causes!

Purchasing custom bracelets through SleekWristbands.com is the easiest, quickest, and cheapest way to order. With countless numbers of colors, fonts, and styles, and no minimum you can be sure your wristband design will be fully personalized with your message. We use only the highest quality materials so you can rest assured about getting the best product. We also provide our customers with peace of mind by offering a 100% money back guarantee. If you're not satisfied, we'll do what ever is required to make it up to you.

We want you to be able to design your custom wristbands to be fully to your liking. This is why we provide many different styles to ensure maximum uniqueness. We also have a large selection of icons to add the final touch to make your wristbands stand out. You can also find various different colors if you're interested in our cancer wristbands. Additionally, to go above and beyond for our customers, we will also design a fully customized wristband design for those who chat, email, or call us. Any custom wristband design that cannot be made using our tool can still be ordered by reaching out to us. We will create a mock up design for your approval at no additional cost!

We strive to provide exceptional customer service to our customers. Any issues, concerns, or general questions you have about our custom wristbands will be answered within an hour during business hours. Not satisfied with your wristbands? We'll produce them again, or offer you a refund. Feel free to reach out to us, and we'll be sure to satisfy your every need.

Designing your custom wristbands no minimum through SleekWristbands.com is the easiest and cheapest way to order. With a 100% money back guarantee, you'll have complete peace of mind. We love helping others make a difference and are proud that our bands are used to support individuals and organizations all over the world. Design your wristbands today.
There is no minimum, but hey! The more wrist bands you order, the cheaper each custom wristband costs. All orders qualify for free shipping. 🙂
When will my order be delivered?
Majority of our orders arrive within 7 total days. We have various options for designing custom bracelets which could affect delivery time.
Can I add my own artwork to my custom bands?
Absolutely! If you have a logo or so, please email us your logo and we will send a mock-up for approval!
What if my order is wrong?
We try our best to provide exceptional customer service, if you received something you didn't order, we will refund/remake it again. If your order is partially wrong, we will refund the partial amount or remake it.
What is your cancellation/refund policy?
As long as your order has not gone into production, we will cancel and refund your order. If you decide to cancel, please contact us as soon as possible.
Is your customer service really that good?
If that's what you heard then it must be! 🙂 We pride ourselves in making others smile.